When you are battling depression, your mind is your worst enemy, and sometimes the only place that depression has set in. So, it is in there conjuring up one negative thought after another that just deepen your depression. However, there methods you can use to counter this, and just out-think your depression. Keep reading for escaping the clutches of negativity.
Escape the Clutches of Negativity Thinking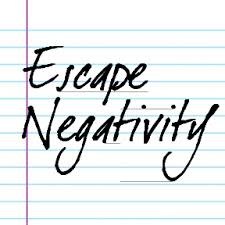 First, you have to identify the common categories of negative thinking. The first kind is just general pessimism. You might not ever feel like getting out of bed or moving around the world for the day, feeling things are hopeless and bleak like there is no hope for the future. The other kind is being overly critical of yourself and others. You lose all confidence in everyone, and never expect any good treatment or accomplishment in life.
Consider journaling your thoughts every morning. Your depression is likely at its worst then, since you do not want to face the day. Get a pen and three sheets of paper, and set aside thirty minutes before you talk to anyone. Just write. Whatever is on your mind, just write. Get the words out and the feelings can follow. Never obsess over those pages, nor ever show them to anyone. In fact, burn them for emotional release later in the day. Burn them, but do not shred them or throw them away. The fire is very satisfying.
If you are fighting depression, you might wind up socializing with others who also depressed. Try not to do this. And no matter how bad your mood is, do not put up with lots of complaining and whining from others. They will just drag you down more or keep you from escaping yourself.
Try to start planting positive thoughts in your mind. Stop taking stresses personally, and focus on any parts of your life that you still enjoy. Make time for a passion that you love. Spend an hour a day on it. Try and grow the productive and happy corners of your life.
Negative Thought Patterns and Cognitive Therapy
There are therapeutic techniques that you can use to target negative thoughts. One that you can do on your own is mantra, or affirmations. Reverse any negative thoughts with a positive statement, and repeat it to yourself often.
If need be, consider medication. If the thought of spending hours in a therapist chair is uncomfortable, know that your medical physician can prescribe antidepressants on their own without asking you about your life story. In addition, eat right, get some exercise regularly and sleep enough and consistently. You would be surprised how much of your mental depression can be vanquished by treating it physically.
The patterns of negativity that swirl around depression are among the most common symptoms and traps that make depression so hard to go through. Once you can get a clutches of negativity, or just escape it for a while to plant positive thoughts, you can start feeling relief and backing away from being depressed. Use the information in this article to help you clutches of negativity and those you love.