There are a few things you can do to help. Read this article to find out how you can help a depressed friend.
Make your friend feel comfortable about talking to you. This might be difficult if you do not usually talk about your feelings with this friend, but try opening up first by sharing something personal. Do not pressure your friend into talking about their depression, but focus on creating a safe environment where you can communicate in an open way. Be patient; it might take weeks before your friend is ready to open up.
Do you have a friend who seems depressed
Do not pressure your friend into talking about their problem. You should let them know you are here if they need to talk, but be understanding if they are not ready to open up. Let your friend know that the best thing to do is to look for the positive things in their life, relax, find a new hobby and get help from a professional. Keep in mind that recovering from depression can take some time. Do not assume your friend does not your help anymore once they start seeing a professional.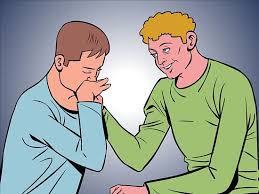 Help a depressed friend forget about their problem by spending some quality time together and having some fun. You should plan on going to places you know they enjoy and doing things they usually find fun, but do not hesitate to try new activities. Keep in mind that your friend might not feel like going outside if they are having a bad day. You should be understanding and cancel your plans instead of forcing your friend to go. And do not hesitate to take the initiative and make all the plans since your friend might not be thinking about going out and having some fun.
Help a depressed friend find some solutions to their problems and be supportive. If your friend is unhappy because of their job or their lifestyle, it is best for them to make some significant changes in their lives. This means you might lose the things you had in common or have a hard time adjusting to your friend's new values and concerns. Make sure these changes are positive for your friend and accept the fact that you might not be as close as before once your friend finds a new lifestyle that suits them.
What if your friend refuses to get help for their depressed
You should not force your friend to do anything but do not hesitate to become more insistent about them getting some help. Offer to help them find a good doctor and drive them to their appointments. You should get in touch with your friend's family members and tell them you think your friend is depressed and needs some help. Your friend's family might be able to convince them to get the help they need.
Helping a friend with depressed can be hard, but remember that your friend needs support. You can help your friend by being there for them, listening to them and supporting them in what they do.